Spiritual Heritage
Our charisma
Our charisma: Charity
This gift, bestowed by divine grace for the good of the religious community, encapsulates the very essence of the Congregation of the Sisters of Charity of Saint Mary. Our charism is the charity practiced by our Sisters toward others – an extension of the love we have for God.
Charity :
the principle of a spiritual and moral connection that engenders unconditional love for other people. The Greek agapè signifies affection, love, tenderness and devotion. Its Latin equivalent is caritas, which translates to « charity ».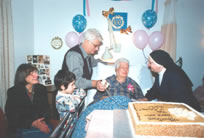 Charity : A shared value
The spirit of charity that dwells within our Congregation manifests itself in a variety of ways :
in religious life :

love of God and others

in everyday language :

love of other people, tenderness and devotion

in working with those in need :

support, assistance and selflessness.
We provide spiritual and material assistance to the young, the elderly and the sick, based on the teachings and principles contained in the Gospel.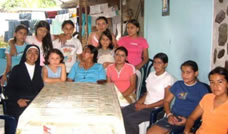 We are dedicated to educating youth at the primary and secondary level and to caring for the elderly and the ill in hospitals, nursing homes and other facilities.
We not only engage in a wide range of charitable endeavours in the local community, we are also involved in concrete missionary efforts overseas. It is through our work that our faith and our love of others are reinforced. We spread the message of Christ everywhere we are.
Loving the Lord, sharing this love with others, being the presence of God on Earth, bringing joy to others and spreading the peace of Christ: these are the blessings that a Sister of Charity of Saint Mary brings.